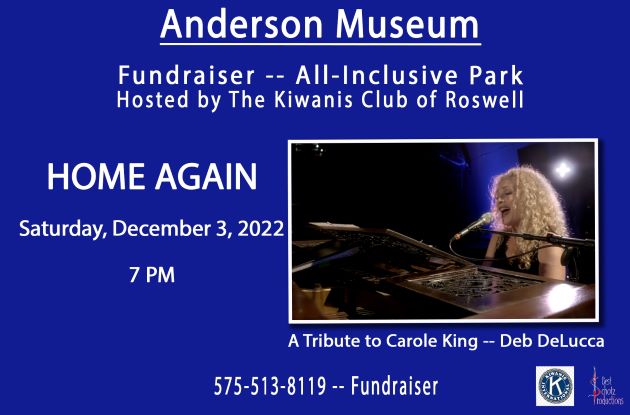 Kiwanis Club of Roswell, New Mexico
Ron Lethgo/President
Kiwanis of Roswell, NM
PO Box 1801
Roswell, NM 88202-1801
My name is Ron Lethgo and I am the 2022/2023 President of Kiwanis of Roswell, NM. Kiwanis is looking to raise $50,000 to complete our pledge of $100,000 toward the All-Inclusive Park, which we are partnering with the Autism Society and City of Roswell.
This project began in 2019 when the Governor of New Mexico and with additional support of outlay money from our local legislators provided the initial funding of this project. Due to COVID, as I am sure you can understand, our fundraising efforts were put on hold. The dream of a play area that is friendly to all children to learn and play was never forgotten. Since this is a unique idea for SE New Mexico the planning and progress has been slow and meticulous to produce the best park for parents, children, and families.
To support these efforts our Kiwanis Club is hosting an Evening at the Anderson Museum featuring Deb DeLucca in "The Carole King Tribute, Home Again" the music of Carole King. Kiwanis is inviting you to this event! It will be Saturday, December 3 at the Anderson Museum with elegant hors d'oeuvres and a glass of champagne! There will be a cash bar as well.
Each table, that seats 8 individuals, is $1200 each or individual tickets at $150 each. Kiwanis would be honored to have your company represented. All the proceeds will be put toward Kiwanis efforts to reach the goal for our community.
Please respond as soon as possible by calling (575)513-8119 to reserve a table or individual ticket. There are limited number of tables available for this performance. Do not miss this one-of-a-kind opportunity to hear a fantastic performer and help ALL the children of the community.
If you are interested in supporting the project on a larger scale, please feel free to contact Doug Austin at (575)317-3695.
Thank you in advance for your contribution! 'You've got a Friend' for your support in this project.
Sincerely,
Ron Lethgo
Kiwanis Club President